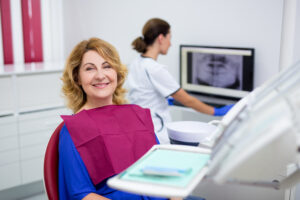 Unquestionably, dental implant placement is the most reliable way of rebuilding a smile. However, the procedure requires several carefully executed steps for successful completion. Thus, it's necessary to find the right implant dentist in Grand Prairie to work with. If that seems easier said than done, continue reading to discover 5 traits to look for when making your decision.
What's Involved in the Dental Implant Procedure
Across the board, dental implantation has a 95% success rate. To maintain this high standard, dentists must take a calculated and conservative approach to every phase of the procedure. It starts with the dentist performing a thorough examination to assess your dental health and measure your jawbone density. Then, he or she will make the necessary adjustments for a successful outcome.
While the typical implant procedure begins with the insertion of a titanium post, followed by months of healing before an abutment is added, there is a more efficient form of implantation. The All-On-4 implant procedure provides a way to achieve a brand-new and fully functional smile in a single visit.
Because it's such an advanced form of implantation, it's even more important to find the right dentist to perform the procedure. Thankfully, you have some help to ensure you make the right choice!
The 5 Traits Your Dentist Should Display
Having your teeth replaced with dental implants is a significant life decision. So you can feel confident about the future of your smile, identify these traits:
1 – Special credentials
All dentists complete a rigorous educational process to earn the right to practice dentistry. However, to become a specialist in any area typically requires two to three years of additional training. It's always a breath of fresh air to know that you're working with a highly skilled specialist.
2 – Experience
Take a moment to research the dentist's track-record and how much experience he or she has. You'll also want to find out whether the dentist is accustomed to working with patients from varying dental health backgrounds. The more diverse the population, the better the dentist typically is at handling any unique challenges that may arise.
3 – Positive reviews
There's nothing like hearing from the patients themselves. You can usually find online reviews, whether on Google, Yelp or Facebook, that allow you to get an idea of what to expect from the dentist.
4 – Willingness to answer questions
Dental implantation isn't something that you can just jump into. Thus, the dentist you're considering should be patient and willing to answer any questions you may have about the procedure to provide the assurance you need.
5 – Friendliness
When you initially enter, the person at the front desk factors into your first impression of the practice and dentist. Is the employee friendly and helpful? Do you feel welcomed? Then, is the dentist pushy or patient?
The bottom line is you should feel comfortable about receiving care. If you have apprehension about moving forward, then don't dismiss it; there's nothing wrong with looking elsewhere. After all, it's quite possible to find just the right dentist to replace your missing teeth in Grand Prairie.
Take the First Step
So you're not hamstrung by speculation and guessing, reach out to a local implant dentist to get the ball rolling. Schedule a consultation today and get on the path to a new life and smile!
About the Author
Dr. Christopher Gonzales is a graduate of Texas A&M Baylor Dental School in Dallas. One of the few prosthodontists in Grand Prairie, he specializes in placing dental implants. Dr. Gonzales helps patients overcome their previous smile limitations at 360 Family & Implant Dentistry, and he can be reached for more information or to schedule a visit through his website.
Related Articles
Hours of Operation:
Monday: 8:00 am – 5: 00 pm
Tuesday: 8:00 am – 5: 00 pm
Wednesday: 8:00 am – 5: 00 pm
Thursday: 8:00 am – 5: 00 pm
Friday: by appointment only
Saturday: 8am-12 noon
Sunday: by appointment only
Address:
LOCATED AT THE CROSSROADS OF HIGHWAY 360 AND CAMP WISDOM IN THE SHOPPING COMPLEX
Archives
Categories
About Our Blog
We are so happy you're here!! Our unforgettable memories in life seem to take place so we decided to Start of Happiness had to be established.
Latest Posts
Search Keywords