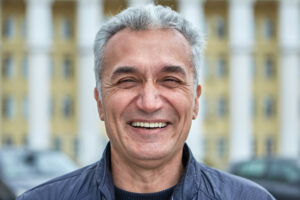 When it comes to tooth replacement, traditional dentures are the most relied upon method. Many people choose this option because of its ability to restore a measure of functionality and create a more pleasant smile. However, there is an alternative: dental implants in Grand Prairie. What do they have to offer, and are they a better choice for rebuilding a smile? Continue reading to get the answers!
How Traditional and Implant-Retained Dentures Differ
The primary difference is that traditional dentures rest above the gum line, while implant-retained dentures are held in place by titanium posts being surgically inserted into the jawbone. Because of the multitude of benefits it offers, dental implantation is considered to be the gold standard of tooth replacement.
Furthermore, it eliminates the following issues that traditional denture wearers often contend with:
Denture Wear – A typical set of dentures can last 5-10 years. Over time, the daily wear and tear of chewing food and attempting to provide jawbone and facial support can cause them to fit looser.
Gum Shrinkage – After prolonged tooth loss, the gums can start to shrink and change in shape.
Bone Resorption – Without stimulation from tooth roots, there can be bone resorption, which causes a decrease in jawbone density and mass, resulting in changes in the jaw structure.
Additionally, as traditional dentures begin to wear, there can be slippage, or they can completely dislodge. Denture wearers may also experience painful mouth sores that result from the prosthetics rubbing against the gums.
The Key Advantages of Implant-Retained Dentures
By being inserted beneath the gum line, dental implants are able to fuse with the existing jawbone over time. This helps to establish a strong, anchoring foundation. The dentures attach to them by way of a special bar or snaps that will prevent any sliding, embarrassing dislodging or gum irritation.
Here are some additional advantages of receiving implant-retained dentures:
Regain more chewing power.
Enjoy a more natural looking smile.
Perform dental hygiene as you normally would.
Avoid the premature facial wrinkling and sunken appearance that often occurs with traditional denture wearers.
Are You Eligible for Implant-Retained Dentures?
Overall, the dental implantation procedure has a 95% success rate. This high standard is maintained because of the careful approach dentists take to determining eligibility. Thus, you'll need to schedule an appointment to have your oral health and jawbone density assessed. Based on what the restoration dentist in Grand Prairie discovers, a plan of action will be suggested. This will also provide an opportunity get information about the cost and a timeline for completion and recovery.
If you're tired of living with the limitations of an incomplete smile, it's well worth reaching out to learn more about your options. Therefore, you can get back to leading a more fulfilling life!
About the Author
Dr. Christopher Gonzales earned his dental degree from Texas A&M Baylor Dental School in Dallas, Texas. He also completed his 3-year Graduate Prosthodontics program at the same institution. An expert in tooth replacement and smile restoration, Dr. Gonzales enjoys changing lives at 360 Family & Implant Dentistry, and he can be reached for more information or to schedule a visit through his website.
Related Articles
Hours of Operation:
Monday: 8:00 am – 5: 00 pm
Tuesday: 8:00 am – 5: 00 pm
Wednesday: 8:00 am – 5: 00 pm
Thursday: 8:00 am – 5: 00 pm
Friday: by appointment only
Saturday: 8am-12 noon
Sunday: by appointment only
Address:
LOCATED AT THE CROSSROADS OF HIGHWAY 360 AND CAMP WISDOM IN THE SHOPPING COMPLEX
Archives
Categories
About Our Blog
We are so happy you're here!! Our unforgettable memories in life seem to take place so we decided to Start of Happiness had to be established.
Latest Posts
Search Keywords