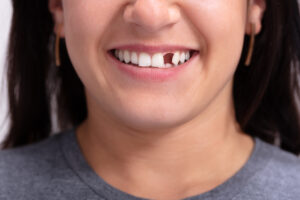 For some time now, you've been living with missing teeth in Grand Prairie. It has left you less hesitant to flash your smile, but there is the potential for even bigger problems down the road. As you continue reading, learn why ignoring tooth loss can be detrimental to your dental health in the future, and discover how your local dentist can address your functional and aesthetic woes!
Why You Shouldn't Ignore Missing Teeth
Your teeth are meant to fit snugly together, as this helps them maintain their position and function properly. When there is prolonged tooth loss, there is a disruption in the normal relationship between your teeth. The missing tension can cause these two types of shifting to occur:
Tipping – The teeth on either side of an open space can begin to shift in that direction, as they attempt to restore the natural tension. This can cause malocclusion (poor bite).
Super Eruption – This refers to the tooth above an open space moving away from its roots. This can also cause malocclusion.
Both conditions can increase the chances of gum infection, and if untreated, can lead to more complex health issues.
Preventive Restoration Methods
The sooner you replace any missing teeth, the better, as it will help prevent any unwanted adaptations. Here are some viable restorative routes you can take:
Dental Bridge
A dental bridge consists of two or more porcelain teeth that are attached to a single apparatus. It is secured by being bonded to the surrounding teeth (called abutments). The teeth are shaped so that the bridge can be affixed with dental cement.
Dentures
You can replace an arch or entire set of teeth with dentures. They consist of porcelain teeth that are affixed to a pink-colored, resin base.
The process, which can usually take up to 10 weeks to complete, starts with your dentist performing a thorough examination to make sure your gums are healthy. Then, bite impressions are taken that are used to custom-design the dentures. The details are sent to a trusted lab that will fabricate the new teeth.
Dental Implant
When it comes to tooth replacement, dental implants are the most functional, lasting and aesthetically pleasing option. They provide a level of security, durability and longevity that is unmatched by any other replacement method.
The process involves your implant dentist in Grand Prairie surgically inserting a titanium post into the jawbone that mimics the function of your tooth's root. After titanium abutments are added, a final restoration is placed to leave a fully restored smile.
What's Best for You?
Determining the best route to take starts with visiting your local dentist for a consultation and examination. This will provide you with all the pertinent information you need to make a confident decision. By taking action, you can offset future dental health issues, regain a wonderful smile and get back to leading a normal life!
About the Author
A graduate of Texas A&M Baylor Dental School in Dallas, Texas, where he also completed the 3-year Graduate Prosthodontics program, Dr. Chris Gonzalez utilizes the most advanced techniques and equipment to rebuild smiles. He helps his patients get their life back on track and smile with confidence at 360 Family & Implant Dentistry, and he can be reached for more information or to schedule a visit through his website.
Related Articles
Hours of Operation:
Monday: 8:00 am – 5: 00 pm
Tuesday: 8:00 am – 5: 00 pm
Wednesday: 8:00 am – 5: 00 pm
Thursday: 8:00 am – 5: 00 pm
Friday: by appointment only
Saturday: 8am-12 noon
Sunday: by appointment only
Address:
LOCATED AT THE CROSSROADS OF HIGHWAY 360 AND CAMP WISDOM IN THE SHOPPING COMPLEX
Archives
Categories
About Our Blog
We are so happy you're here!! Our unforgettable memories in life seem to take place so we decided to Start of Happiness had to be established.
Latest Posts
Search Keywords