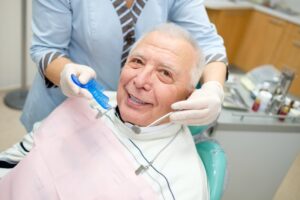 If there is one event that is the highlight of summer, it's the July 4th celebration. It's a time to get together with family and friends to fellowship, eat delicious foods and smile for photos. If you've suffered tooth loss in Grand Prairie, though, you may not feel so eager to let your personality shine. Thankfully, there is a way to regain your functionality so you can eat your favorite foods, smile with confidence and maintain your dental health: with dental implants. As you continue reading, learn how to make this a summer and Independence Day to remember!
What Makes Dental Implants Different?
You may be wondering, "why not just get a set of dentures?" While millions of dental patients have relied on traditional dentures to restore a measure of their functionality, they leave much to be desired. For starters, dentures are known to suffer significant wear and tear over time, which can cause them to slip and produce painful sores in the soft tissue areas of the mouth.
With dental implants, though, you don't have to worry about this happening. That's because they consist of cylinder-shaped titanium posts (implants) being surgically inserted beneath your gum line. Over time, the implants fuse with the jawbone to form a sound structure that mimics the relationship between the original tooth roots and the jawbone.
Here's what the implant process entails:
Initial implant placement – Depending on the type of implant procedure you undergo (All-on-4 or traditional implants), it can take days to months to recover, for the implants to fuse with the existing bone (referred to as osseointegration), and to be functional.
Addition of the abutments – To prevent slippage or dislodging, titanium abutments are securely attached to the implants.
Placement of the final restoration – A custom restoration (crown, implant-retained bridge or denture) is securely affixed to the abutments to leave a fully restored and functional smile.
A Broader Range of Foods to Choose from
Because of the design of dental implants and the procedure used to placed them, they are completely self-sufficient. This separates them from any other form of tooth replacement. Whereas patients receiving traditional dentures can expect to regain around 25% of their original chewing power, dental implants can restore up to 75%.
Unlike traditional dentures, implant-supported restorations don't cover the palate. Thus, they allow for the full enjoyment of the foods eaten, which is of the utmost importance when attending a summer barbecue.
Yet Another Benefit of Receiving Dental Implants
By practicing consistent and effective dental hygiene, which should include brushing and flossing at least two times a day, and visiting your dentist semi-annually for cleanings and checkups, you can get a lot of mileage out of your dental implants. In many cases, they can last for well over a decade.
To receive a restored smile just in time for the singing of the national anthem and your local fireworks display, reach out to your implant dentist in Grand Prairie to request an initial visit. A summer of delicious foods and fun memories awaits you!
About the Author
A graduate of Texas A&M Baylor Dental School in Dallas, Dr. Christopher Gonzalez is one of the few prosthodontists in Grand Prairie. He utilizes his unique skillset to help patients overcome their smile imperfections and lost functionality by placing dental implants at 360 Family & Implant Dentistry. Dr. Gonzales can be reached for more information or to request a visit through his website.
Related Articles
Hours of Operation:
Monday: 8:00 am – 5: 00 pm
Tuesday: 8:00 am – 5: 00 pm
Wednesday: 8:00 am – 5: 00 pm
Thursday: 8:00 am – 5: 00 pm
Friday: by appointment only
Saturday: 8am-12 noon
Sunday: by appointment only
Address:
LOCATED AT THE CROSSROADS OF HIGHWAY 360 AND CAMP WISDOM IN THE SHOPPING COMPLEX
Archives
Categories
About Our Blog
We are so happy you're here!! Our unforgettable memories in life seem to take place so we decided to Start of Happiness had to be established.
Latest Posts
Search Keywords