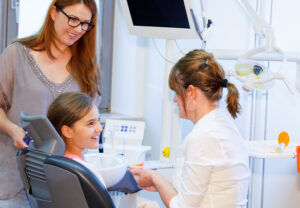 As the end of summer approaches, you're preparing for your child's upcoming school year. You've visited store after store to purchase clothing, shoes and supplies, but your children's dentist in Grand Prairie says there is one more important detail that shouldn't be overlooked: a back-to-school checkup. Thinking about putting it off until later? Continue reading to find out the value of being proactive and discover why this is the perfect time to fortify your child's dental health!
It's Easier to Prevent Than Treat
The last thing a dentist wants to do is perform complex procedures to restore a patient's dental health. While they are trained to treat an array of issues, the primary goal – always – is prevention. Through proper maintenance and regular checkups, patients can achieve a high quality of dental health. Additionally, people with healthy teeth and gums tend to live longer and more fulfilling lives.
This is why it's so important for children to develop good habits early. Unfortunately, many adult dental woes begin in childhood with what initially appear to be harmless cavities. If the issues aren't properly treated, or the poor habits that led to them aren't corrected, an unhealthy trend can be set that leads to big problems in adulthood.
Why the Before-School Visit is So Important
As the school year gets underway, your parental responsibilities increase, and you still have your other obligations that must be tended to. Time can easily get away from you, and your child's dental visit may be overlooked. Committing to a visit before school starts is a way to avoid this happening.
By taking advantage of the flexibility that summer offers, your child won't have to miss school, and this can help eliminate an extra time burden once the year gets underway. Here are some of the other benefits of being proactive:
Saves you money by decreasing the chances of needing complex dental care
Allows your child to begin the school year with a clean and healthy smile, and greater confidence
Aids in positive habit setting and allows your child to become comfortable with receiving dental care in the future
What to Expect
From the time you arrive in the office, you can expect to be there around an hour. If it's the first visit or the one-year anniversary of your child's first appointment, you can expect X-ray photos to be taken. Next, the dental hygienist will perform a thorough cleaning to remove any plaque and tartar buildup. Then, the dentist will perform a careful examination to identify any issues.
The visit will conclude with you and your child sitting down with the preventive dentist in Grand Prairie to discuss what improvements need to be made and to have any questions answered. By the time you all leave the office, your child will feel accomplished, healthier and ready to leap into a new year of learning.
So before you purchase your next notebook or pack of pencils, don't forget to reach out to your local dentist to schedule a visit. When it's all said and done, it will give your child something to smile about!
About the Author
Dr. Ticole Nguyen earned her dental degree from Texas A&M Baylor College of Dentistry. Since entering the dental field, she has been an advocate for preventive dentistry, so her patients can avoid complex and costly problems. Dr. Nguyen treats patients of all ages at 360 Family & Implant Dentistry, and she can be reached for more information or to schedule a visit through her website.
Related Articles
Hours of Operation:
Monday: 8:00 am – 5: 00 pm
Tuesday: 8:00 am – 5: 00 pm
Wednesday: 8:00 am – 5: 00 pm
Thursday: 8:00 am – 5: 00 pm
Friday: by appointment only
Saturday: 8am-12 noon
Sunday: by appointment only
Address:
LOCATED AT THE CROSSROADS OF HIGHWAY 360 AND CAMP WISDOM IN THE SHOPPING COMPLEX
Archives
Categories
About Our Blog
We are so happy you're here!! Our unforgettable memories in life seem to take place so we decided to Start of Happiness had to be established.
Latest Posts
Search Keywords