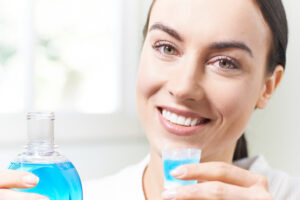 You've been waiting for summer to arrive, and now it's in full swing. If you're like most people, you have travel plans or other fun events in mind to take full advantage of the season. In the midst of your enjoyment, you definitely don't want to forget about your dental health in Grand Prairie, as doing so could lead to some unwanted issues. Continue reading to learn about 5 ways to protect your teeth and gums while having fun in the sun!
#1 – Drink Plenty of Water
Water is absolutely essential to your overall health, as it supports the function of every aspect of your physical makeup. When it comes to dental health, your water intake has some specific and unique benefits. For starters, it aids in the production of saliva. In addition to jumpstarting your body's digestive processes, saliva plays a major role in protecting your teeth and gums.
It accomplishes this by flushing debris and bacteria from your mouth after you eat and drink. To support this process, be sure to drink at least half your body weight in ounces of water. For example, a 150-pound person would need to drink at least 75 ounces (3/4 gallon) of water to be properly hydrated.
#2 – Carry Mouthwash with You
When on vacation, you want to remain on the go, so you can take in as many activities as possible. Unfortunately, your typical dental hygiene routine may be compromised. If you're not able to brush and floss your teeth as frequently as you'd like, it helps to at least keep a bottle of mouthwash handy. While it's certainly not a substitute for your typical regimen, it can temporarily help to limit the growth of bacteria and plaque after eating and drinking.
#3 – Be Cautious About Drinking Carbonated Beverages
There's something about the fizz of carbonated drinks that add to their enjoyment. The taste and bubbly sensation can come with a price, though. These beverages contain acids that can wear down tooth enamel (the protective outer layer of your teeth).
Here's the compromise; you can drink carbonated beverages in moderation. Then, around 30 minutes after doing so, perform your normal dental hygiene routine.
#4 – Use a Straw Instead
Whether you're drinking a carbonated, sugary or adult beverage, using a straw can lessen any negative effects. The directed funneling of the liquid through the straw can help prevent its spread throughout your mouth, which can limit the number of harmful bacteria that can lead to plaque growth.
#5 – Eat More Fruit
It's your vacation, so you want to be able to "let your hair down" a bit when it comes to enjoying the delicious options available to you. Wherever you're heading, look to sample the local seasonal fruits. Not only can they help to satisfy a sweet craving, but they can also limit bacteria and plaque growth, and the dental problems that come along with them.
You've worked hard, so you deserve to have some fun. By following these tips, you can better ensure that when you get back to life as usual following your vacation, you won't have any new dental health issues to contend with. That's something that you and your preventive dentist in Grand Prairie can be happy about!
About the Author
Dr. Ticole Nguyen is a graduate of Texas A&M Baylor College of Dentistry. Throughout her career, she has placed great emphasis on preventive dentistry as a means of avoiding serious dental health issues. Dr. Nguyen helps her patients maintain gorgeous and healthy smiles at 360 Family & Implant Dentistry, and she can be reached for more information or to schedule a visit through her website.
Related Articles
Hours of Operation:
Monday: 8:00 am – 5: 00 pm
Tuesday: 8:00 am – 5: 00 pm
Wednesday: 8:00 am – 5: 00 pm
Thursday: 8:00 am – 5: 00 pm
Friday: by appointment only
Saturday: 8am-12 noon
Sunday: by appointment only
Address:
LOCATED AT THE CROSSROADS OF HIGHWAY 360 AND CAMP WISDOM IN THE SHOPPING COMPLEX
Archives
Categories
About Our Blog
We are so happy you're here!! Our unforgettable memories in life seem to take place so we decided to Start of Happiness had to be established.
Latest Posts
Search Keywords