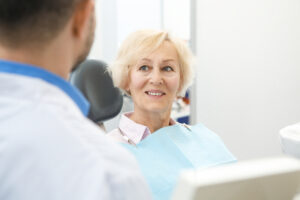 Now that spring has arrived and the sun is shining brightly, you're ready to enjoy the outdoors. This is also a great time to fire up the grill and indulge in some delicious delights. Because you're without a full set of teeth, though, you're concerned about missing out on some of your favorite foods. Thankfully, there's a way to have your smile rebuilt and functional just in time to experience all that spring has to offer. As you continue reading, learn how a skilled prosthodontist in Grand Prairie can place dental implants to provide just what you're looking for!
What are Dental Implants?
Carefully crafted from the highest-grade titanium, dental implants are cylinder-shaped posts that can range from 2 to 6 millimeters (mm) in diameter and 12 to 16 mm in length. They are unique in that they are able to mimic the function of the natural tooth root. Surgically inserted beneath the gum line, traditional implants fuse with the existing jawbone over a typical period of 6 to 12 months.
An Even Faster Way to Rebuild Your Smile
There is now a way to have your missing teeth replaced in a fraction of the time that it used to take. Even better, you don't have to settle for inferior quality. With All-On-4 implants, that typically require no more than 6 implants per arch, you can leave your local dental office looking and feeling like a new person in just a single visit.
Here is how the process works:
Implants, that are made from acrylic-fused-to-titanium, are inserted into the denser parts of the jawbone.
The implants are angled to further ensure that the denser portions are accessed and to apply less pressure on the jawbone.
In many cases, patients are able to resume semi-regular activities soon after the procedure is completed.
Depending on the number of teeth you have replaced and the complexity of your procedure, it can take from a few days to 3 months to recover.
How to Encourage Progressive Healing
Like most people, you want to heal and recover from your surgery as fast as possible. You can start with avoiding hot or spicy liquids during the initial 48 hours post-surgery. You'll also want to stay hydrated (preferably with water) to replenish your oral tissue and maintain adequate moisture.
For the first week following the procedure, it's best to refrain from consuming any solid foods. Still, it's of the utmost importance to consume adequate nutrients, as this will help to prevent infection and accelerate your recovery. During this period, protein shakes will be your best friend, as they are easily digested, typically lower in sugar and packed with protein.
Now that you have the basic framework for how to replace your missing teeth in Grand Prairie in the most efficient manner, the only thing left to do is contact your local prosthodontist to request a visit. By taking action today, you could very well be smiling and eating like normal before the end of spring!
About the Author
A graduate of Texas A&M Baylor Dental School in Dallas, Texas, Dr. Christopher Gonzales is one of the few prosthodontists in the Grand Prairie area. He uses his unique skillset to give his patients peace-of-mind, knowing they can trust their smile to his capable hands. Dr. Gonzales places All-On-4 dental implants at 360 Family & Implant Dentistry, and he can be reached for more information or to schedule a visit through his website.
Related Articles
Hours of Operation:
Monday: 8:00 am – 5: 00 pm
Tuesday: 8:00 am – 5: 00 pm
Wednesday: 8:00 am – 5: 00 pm
Thursday: 8:00 am – 5: 00 pm
Friday: by appointment only
Saturday: 8am-12 noon
Sunday: by appointment only
Address:
LOCATED AT THE CROSSROADS OF HIGHWAY 360 AND CAMP WISDOM IN THE SHOPPING COMPLEX
Archives
Categories
About Our Blog
We are so happy you're here!! Our unforgettable memories in life seem to take place so we decided to Start of Happiness had to be established.
Latest Posts
Search Keywords