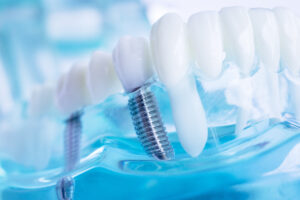 Without a doubt, dental implants in Grand Prairie are the most reliable, functional and aesthetic means of replacing missing teeth. While it maximizes the latest technological advancements to offer an array of benefits, the concept of dental implantation is far from new. As you continue reading, learn about its surprising history and how it has evolved into the groundbreaking All-On-4 dental implant procedure!
The Origin of Dental Implants
According to historical and archeological records, dental implants (in different forms) have been in existence for several millennia. As a testament to the creativity and ingenuity of Man, such materials as seashells and carved stones have been used to rebuild smiles. There is even evidence of osseointegration taking place, as the materials used were able to fuse with the jawbone, similar to modern dental implants.
The Modern Era of Dental Implants
Dental implantation took a big step in the 1950's. Through an accidental discovery, a Swedish orthopedic surgeon found that he couldn't remove titanium optic chambers he had previously implanted in the leg bones of rabbits. That's because the titanium had fused with the rabbits' legs. This is where the term osseointegration originates.
Titanium would go on to become the go-to material for dental implant fabrication. Patients are now able to benefit from its biocompatibility and durability. Designed to mimic the shape of the original tooth root, a dental implant can last several decades.
All-On-4 – A Quantum Leap for Dental Implants
Whereas it can take up to a year to replace missing teeth in Grand Prairie with traditional dental implants, the All-On-4 method offers immediate results. First completed in 1998 by Dr. Paulo Malo, it challenged the previous requirements of placing 6 to 12 posts (several of which were considered backups).
Here are some key facts that led to a new way of approaching the dental implant process:
It was discovered that improper dental hygiene was a significant contributor to failed implants.
A prosthesis installed on 4 posts was found to be easier to care for, eliminating the need for extra posts.
It was determined that by angling the posts, a dental surgeon could overcome anatomical limitations and damaged jawbone.
What This Means for Patients with Missing Teeth
As a result of this breakthrough in smile reconstruction, eligible patients no longer have to wait for months to finalize their tooth replacement. Instead, they're able to leave the dental office with a brand-new smile in just a single visit. But will All-On-4 work for you? To find out, pay your local implant dentist a visit, and get on the path to a revitalized life!
About the Author
A graduate of Texas A&M Baylor Dental School in Dallas, Texas, where he also completed the 3-year Graduate Prosthodontics program, Dr. Chris Gonzalez utilizes the most advanced techniques and equipment to restructure smiles with All-On-4 implants. He helps his patients get their life back on track and smile with confidence at 360 Family & Implant Dentistry, and he can be reached for more information or to schedule a visit through his website.
Related Articles
Hours of Operation:
Monday: 8:00 am – 5: 00 pm
Tuesday: 8:00 am – 5: 00 pm
Wednesday: 8:00 am – 5: 00 pm
Thursday: 8:00 am – 5: 00 pm
Friday: by appointment only
Saturday: 8am-12 noon
Sunday: by appointment only
Address:
LOCATED AT THE CROSSROADS OF HIGHWAY 360 AND CAMP WISDOM IN THE SHOPPING COMPLEX
Archives
Categories
About Our Blog
We are so happy you're here!! Our unforgettable memories in life seem to take place so we decided to Start of Happiness had to be established.
Latest Posts
Search Keywords