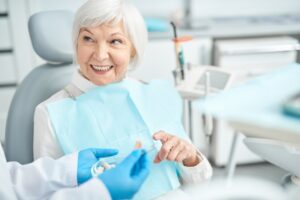 While the fabrication of traditional dentures is the most well-known way to replace missing teeth, it's certainly not the only route you can take. This is good news for patients who desire a more natural form of restoration. With dental implantation, tooth replacement has risen to a new level of functionality, longevity and aesthetics. As you continue reading, a local dentist explains how a version of the dental implant process, All-On-4 in Grand Prairie, can leave you smiling with confidence and eating your favorite foods again in less time than ever before!
The Difference Between Dental Implants and Dentures
Dental implantation is, by far, the pinnacle of tooth replacement. Whereas dentures rest atop the gums and rely on suction and dental adhesive to stay in place, dental implants provide a measure of security and natural feel that is unmatched.
After the treatment site is prepared, a titanium post (implant) is inserted beneath the gum line and into the jawbone. Over time, the post will fuse with the existing bone through a process called osseointegration. This amounts to a sturdy and secure foundation to build your brand-new smile upon.
However, if you're missing an arch or full set of teeth, having each tooth root replaced can result in an extensive treatment process. Thankfully, the All-On-4 implant method provides a less invasive yet effective way to get the same results.
All-On-4 Implants Explained
With All-On-4 implants, an entire row of teeth can usually be replaced with only four carefully placed posts. It starts with your dentist finding the densest and healthiest parts of your jawbone and placing the implants at an angle that provides the most support.
After you've healed from the initial surgery and your jawbone has securely fused with the implants, a set of implant-retained dentures will be added.
Why All-On-4 Implants are Better
The primary reason that above-gum tooth replacements don't quite look natural is that they don't attach beneath the gum line. With All-On-4 implants anchoring a set of dentures, the prosthetics have a more streamlined appearance and even function quite similarly to the teeth you were born with.
In addition to creating a beautiful and natural-looking smile, here are some of the other benefits of All-On-4 implants:
Preservation of your jawbone
Relatively short recovery time
No slipping or sliding dentures
Only one surgery required to place multiple implants
Typically, more cost-effective than traditional dental implants
A perfect solution for patients who've been without their teeth for years
If you're wondering if you qualify for All-On-4 implants, then the best way to find out is to visit your dentist in Grand Prairie. In addition to receiving a thorough assessment, you'll be able to ask any questions you may have so you can comfortably have your teeth replaced, functionality restored and the confidence boost to smile without hesitance!
About the Author
Dr. Christopher Gonzales earned his dental degree from Texas A&M Baylor Dental School in Dallas, Texas. He then went on to complete the 3-year Graduate Prosthodontics program at the same institution. Throughout his career, Dr. Gonzales has enjoyed playing an integral part in rebuilding his patients' lives and smiles. He places All-On-4 implants at 360 Family & Implant Dentistry, and he can be reached for more information or to request a visit through his website.
Related Articles
Hours of Operation:
Monday: 8:00 am – 5: 00 pm
Tuesday: 8:00 am – 5: 00 pm
Wednesday: 8:00 am – 5: 00 pm
Thursday: 8:00 am – 5: 00 pm
Friday: by appointment only
Saturday: 8am-12 noon
Sunday: by appointment only
Address:
LOCATED AT THE CROSSROADS OF HIGHWAY 360 AND CAMP WISDOM IN THE SHOPPING COMPLEX
Archives
Categories
About Our Blog
We are so happy you're here!! Our unforgettable memories in life seem to take place so we decided to Start of Happiness had to be established.
Latest Posts
Search Keywords