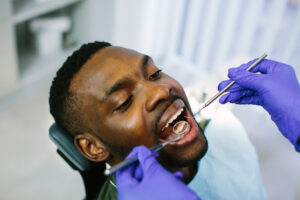 The World Health Organization (WHO) has designated May as Mental Health Awareness Month. This is especially important, given that millions of Americans suffer from some form of mental illness. The conditions can range from depression – to heightened stress and anxiety – to distress and loneliness. Interestingly, recent studies show evidence of a connection between mental and dental health. Continue reading to learn how preventive dentistry in Grand Prairie can boost your physical and emotional wellness, while protecting your smile!
What the Results Show
According to a study conducted by the National Health and Nutrition Examination, the majority of the participants with depression reported having a toothache in the last year. Half the people with depression admitted to having fair or poor dental health. Further research has shown a connection between periodontal (gum) disease and declining mental wellness.
The Dental and Mental Health Connection Examined
Scientists and medical professionals are continuing to learn more about the relationship between dental care and mental health. The following further explain the connections between the two:
Higher Cortisol Levels – Cortisol is a hormone that is expressed in stressful situations. It's one of the body's natural defenses, allowing for heightened awareness when there is a threat. While it serves as a survival mechanism, it causes inflammation and can encourage gingivitis and periodontal disease.
Medications – Many people take medications to help stabilize their mental health. Unfortunately, this can cause dry mouth and encourage the growth of oral bacteria and plaque.
Anxiety-Related Problems – People who suffer from anxiety can be vulnerable to canker sores and teeth grinding (called bruxism).
Dental Neglect Related to Poor Mental Health – A depressed, anxious, stressed or otherwise melancholy mental state can cause someone to neglect their dental care. This can leave an opening for several problems to develop in the future.
How You Can Protect Yourself
If you're experiencing a mental health crisis, the first step is to contact a licensed therapist. This will help in getting to the core of the issue, which can promote better total wellness.
It also helps to be proactive, visiting your local dentist every six months for cleanings and checkups. Therefore, if there are any issues budding, they can be addressed before oral bacteria have a chance to travel to the brain and other parts of your body.
Your home dental care is also of great importance. As a general rule of thumb, you should be brushing at least two times a day, and flossing at least once. The combination of the two will help to keep oral bacteria and plaque growth under control.
While the country has endured some tough times over the last two years, it's good to know that there are ways to fortify your physical, mental and emotional wellness. In addition to the above listed methods of care, it's worth your while to schedule a checkup with your dentist in Grand Prairie today. Therefore, you can experience the many benefits that await you!
About the Author
Dr. Ticole Nguyen earned her dental degree from Texas A&M Baylor College of Dentistry. Since entering the dental field, she has championed preventive dentistry as a means to maintain excellent dental and overall health. Dr. Nguyen provides an array of services at 360 Family & Implant Dentistry, and she can be reached for more information or to schedule a visit through her website.
Related Articles
Hours of Operation:
Monday: 8:00 am – 5: 00 pm
Tuesday: 8:00 am – 5: 00 pm
Wednesday: 8:00 am – 5: 00 pm
Thursday: 8:00 am – 5: 00 pm
Friday: by appointment only
Saturday: 8am-12 noon
Sunday: by appointment only
Address:
LOCATED AT THE CROSSROADS OF HIGHWAY 360 AND CAMP WISDOM IN THE SHOPPING COMPLEX
Archives
Categories
About Our Blog
We are so happy you're here!! Our unforgettable memories in life seem to take place so we decided to Start of Happiness had to be established.
Latest Posts
Search Keywords